So you have got yourself a brand new 4k, Ultra-High Def television, and you still have quite a few pounds left to splurge in your bank account, why not get the PS4 Pro to go along with it? The PS4 Pro is Sony's upgraded hardware to make their system a little more future proof.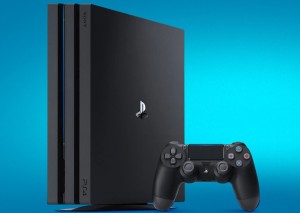 It provides those with a 4k TV a more immersive gaming experience, boosting the graphic fidelity of games with faster and more stable frame rates. Regular HDTV's will also get a higher and more stable frame rate, boasting a full 1080p resolution.
The games will look more realistic, and the upgraded systems also offer 2.4 GHZ/ 5 GHZ wi-fi mode options and HDMI 2.0. Compatible games so far include Battlefield 1, Final Fantasy XV (After a future patch), The Elder Scrolls Online: The Tamriel Unlimited, Call of Duty: Infinite Warfare, Call of Duty: Modern Warfare Remastered, FIFA 17, NBA 2K17, and more. All the compatible games will have the "Pro" symbol located on the front of the game case.
If you do not have a 4k television, then honestly, there is no reason to go out and spend the money right this moment. Waiting would be your best option but if the PS4 Pro is a must-have for you, then go right ahead, it will put you ahead of the curve and you will be ready when the price of 4k TVs are more reasonable.
Now, the Pro is still rather new, so most retailers with good deals and bundles are selling out left and right. However, here are a few sites and what they offer in the UK:
- Amazon offers free shipping in the UK and they often have great bundles if you are lucky enough to catch one. Their standard PS4 Pro (1TB) is £349.99.
- Argos is offering a PS4 Pro (1TB) for £349.99 and you can purchase the Call of Duty: Infinite Warfare for £40 along with it.
- Currys is keeping with the trend and has their PS4 Pro at £349.99 with free delivery to the mainland UK on 1000s of products.
Finally, Very, Very has a similar deal at £349 and offers a service guarantee to protect your product from damage and after forking out around £350, this is something you definitely may want to consider!
The key here is to keep an eye on these sights, they often have flash deals and Amazon has great bundles when they are in stock. Check for deals and what all the sites offer, you may be interested in financing or product protection so the key is to shop around.