The Xbox One S is the latest update in the Xbox One generation to hit the market, alongside the new PlayStation 4. The Xbox One S is the slimmest Xbox yet, measuring 40% smaller than its predecessor, the Xbox 360.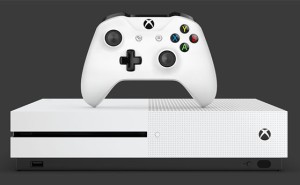 It's available in multiple colours including a "robot white" colour and it ditches the 360's bulk power "brick," as some fans called the clunky power supply. The Xbox One S can be displayed vertically or horizontally using a console stand.
Powerful Features
In terms of tech and quality, the Xbox One S has it all. Customers can choose between a 500 GB or 1TB hard drive, and it comes with Ultra HD 4K capabilities — meaning that it's the most affordable Ultra HD DVD on the market, and that's without factoring in the bonus of it also being a gaming system. Users can stream videos via Netflix, Amazon and more, and the console also plays HD Blu-Ray discs.
The wireless controller has also been updated. This time around users can enjoy Bluetooth, proprietary wireless (which boosts the controller's wireless range by a lot), and texture grips. The Bluetooth controller can also be used with PC computer systems.
What's in the Box?
A brand-new Xbox One S system includes:
• Console
• Internal hard drive (either 500 GB or 1 TB)
• Wireless controller with 3.5 mm headset jack
• HDMI cable
• AC power cable
The Best Xbox One S Deal in the UK
So where can the avid UK gamer find the best deals on a new Xbox One S? On the internet, of course! There are various sites that feature the best prices on standalone consoles and bundles, which pair the console with a game and/or additional accessories.
Check out the available deals below:
Standalone Consoles
Argos offers some great prices on the Xbox One S. You can get a 500 GB system for around £200, or increase to a 1 GB system for around £50. Standalone systems are cheaper than the bundle deals but you don't get the benefit of getting games at a discounted rate. Argos also offer great financing opportunities so that you don't need to pay the whole thing of at once if you don't wish too.
Bundles
Buyers stand to save big when purchasing the Xbox One S in a bundle with games, accessories, and more. For example, Amazon UK boasts several bundles, such as the Minecraft Favourites Bundle, FIFA Bundle and Limited Edition bundles. The Bundles typically offer games, add-ons, downloads and other accessories with the console. This can lower the overall price because you don't have to buy your favourite game on top of paying for the console. The bundles can be extravagant or modest with just an added game with the console.
Currys PC World
Currys has a number of other great bundles, such as the one that combines the console with Minecraft Favourites, a special blue wireless controller, a twin docking station to recharge your controllers, and a 3-month Gold membership to Xbox LIVE, all for around £260.00.
Very
Very.co.uk is another UK site that sells Xbox One S bundles. Get a 1 TB console bundled with the Gears of War 4 and Forza Horizon 3 for around £310. You are also given the option to add to your bundle to customise it for yourself. Very also allow their credit customers to pay weekly on the Xbox One.
If you're looking to get a deal on an Xbox one S then grabbing a bundle deal is probably the best option for you. Check financing options if you don't want to hold all your money up at once and can't afford the big spend. Shop around and look for the best deal before you commit to a purchase.