Buying a new desk and desk chair from a UK catalogue could save you cash. You'll discover a wide range of products, including desks manufactured from a number of different materials, from these retailers that you might not find at shops on your high street. You will also be able to pay for your purchase in affordable chunks, either on a weekly or monthly basis. Here's everything you wanted to know about buying desks and desk chairs on finance from a UK catalogue.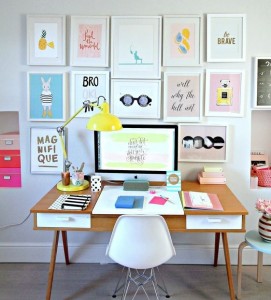 Benefits
UK catalogues, including Argos and Next, sell a wide range of different desks and chairs, including office desks and children's desks. These come in a number of sizes and finishes, including wood and glass. Choose a product that complements the interior of your home. Some desks come with plenty of storage space, including drawers and shelves. Others are perfect for desktop and laptop computers or provide you with a workspace to write or draw.
Most desks are large and bulky, making them difficult to take home from a shop if you don't have a car. When you make a purchase with a UK catalogue, you can have your desk and desk chair delivered to your home address, saving you a lot of hassle. Some retailers include free delivery when you make a purchase, saving you money, too.
How to apply
If you want to spread the cost of a desk and desk chair, you'll need to apply for a credit account with your favourite catalogue company. With so many of these retailers out there, it can be difficult to know which to pick, so do your research first. You should pick a company that provides good value for money and offers a low rate of interest, otherwise you'll end up paying far more for the item than if you were to purchase a desk and desk chair and pay for it in one go, upfront. Most retailers will give you an instant decision about your application when you apply for finance, and if you're accepted, you'll receive your welcome documents by post.
Making repayments
There are a number of ways you can make repayments once you've purchased a desk and desk chair on finance. Several retailers let you open a personal account on their website, where you can log in and check your payments or make a repayment. You can also pay for your purchase over the phone by speaking to a customer service rep. Your account balance should be updated immediately.